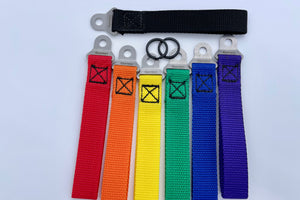 Yanky McStrappy
Regular price $19.95 Sale
#BECAUSERACECAR! Are you one of those cool kids that stripped your interior out of your car? Now, how the heck ya gonna pull those doors close? LOOK NO FURTHER! Yanky McStrappy is here. In taste the rainbow colors! Or at least a few of them...

0.090" 304 Stainless steel mounting tab. 1" wide polypropylene heavy-duty webbing. Black, Xbox stitched by our neighboring shop who does custom holsters. seriously this guy does killer work!  8mm mounting hole so you can screw it anywhere you want.  Laser-engraved KB logo and a slight bend to keep the webbing from bottoming out on the metal. Approx 6" loop opening. *One Yanky Per Packy*.
 For you wannabe racers, we're now including a split ring. PRESTO its now a bitchin key ring!